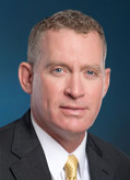 Chris Vallez
CPA
Partner
Nearman,Maynard,Vallez CPAs
Chris earned a Bachelor of Science degree in Accounting and a Masters in Business Administration from Barry University in Miami Shores, Florida. Chris is licensed as a Certified Public Accountant (CPA) in several states. He is a member of the American Institute of CPAs (AICPA) and the Florida Institute of CPAs.

Chris has been associated with Nearman, Maynard, Vallez, CPAs since 1991, during which time he has advanced to the position of Partner. As a Partner, he is responsible for all aspects of certified audit and agreed upon procedure engagements. Chris has been involved with hundreds of credit union audits.

Chris is a volunteer on the AICPA's Depository Institutions Expert Panel (DIEP). The DIEP is a volunteer group comprised of individuals having dedicated their careers to depository institutions. This panel meets with regulators allowing for a flow of ideas between regulators and those in the depository industry to work towards improved regulations and accounting issues. Since 2005, Chris has served on the Steering Committee for the AICPA National Conference on Credit Unions.